22nd February 2019
12 Things You Should Know About Total Knee Replacement Surgery
By Mr. Sam Rajaratnam FRCS (Tr. & Ortho)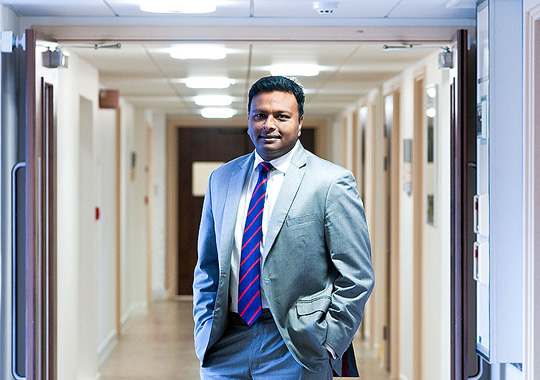 Mr Sam Rajaratnam FRCS (Tr. & Orth.), Head of the Orthopaedic Department at the Schoen Clinic, London, discusses 12 frequently asked questions about total knee replacement surgery.
How do I know I might need knee replacement surgery?
There are many reasons for knee pain including problems associated with ligaments, tendons, the kneecap itself, fluid on the knee, or a tear in the menisci. However one of the most common reasons for knee pain is osteoarthritis, particularly in older people, and it is the most common reason for total knee replacement surgery. About 90% of all knee replacements are carried out because of osteoarthritis. If you are experiencing constant knee pain it is important that you see your doctor to get a correct diagnosis and perhaps a second opinion. If you do have osteoarthritis your doctor may refer you to a consultant orthopaedic surgeon. Mr Rajaratnam is very happy to be consulted for an opinion on all types of knee problems.
Is there no alternative to an operation?
There is no cure for osteoarthritis, and the pain may become worse over time, restricting your ability to lead a normal life. If you are diagnosed with osteoarthritis there are a number of options available to you, depending on the severity of the osteoarthritis. Osteoarthritis occurs when the articular cartilage within the knee joint becomes worn away and the femur and tibia come into contact with each other. This condition can affect the whole of the knee joint or one or more compartments of the knee. If the osteoarthritis is not too severe you may be able to cope with any pain you may be experiencing by using medication, a change in lifestyle, physiotherapy, and other supportive measures. Injections of steroid, lubricant (Hyaluronic Acid) or stem cells can temporarily help with the pain, but it is unlikely to be a permanent solution. In addition there is the danger that, by changing your weight distribution to avoid pain, you may cause secondary damage, and delaying an operation may result in a less favourable outcome.
Why total knee replacement?
Osteoarthritis can affect one or several areas in the knee joint, and the consultant may recommend a partial knee replacement if only one part of the knee is affected. Alternatively a total knee replacement may be considered to be the best option. This is an implant that covers all of the damaged surface in the knee, and is often a very reliable and permanent solution when the damaged area affects more than one compartment of the knee. The National Joint Registry (NJR) report for 2018 records that in 2017 89% of primary knee procedures were for total knee replacement. Many patients choose this because the outcomes are very good and the procedure very successfully returns the joint to excellent functionality.
What does total knee replacement surgery involve?
In knee replacement surgery the arthritic ends of the femur and tibia are removed or resurfaced, and replaced with artificial surface metal alloy implants. Sandwiched between the implants is a polyethylene spacer which acts as a cushion, replacing the function of the articular cartilage. It is similar to a dentist crowning a tooth, and modern knee replacements may be described as resurfacings. The kneecap (patella) may also be replaced with an artificial implant. Mr Rajaratnam favours the Zimmer Biomet 'Persona' and 'Vanguard' system implants, potentially used in conjunction with 'Signature' Personal Specific Instrumentation which gives very accurate implant alignments.
Is surgery risky?
Knee replacement today is a routine operation with excellent outcomes, but all surgery comes with some risk. There is a very low risk of complications associated with anaesthesia, as for all operations, including  blood clots, pneumonia, strokes and heart attacks. Blood clots resulting in pulmonary embolism can be life threatening, but this risk is minimised by a process called 'rapid recovery'. Mr Rajaratnam is a leading authority on 'rapid recovery' which includes getting the patient walking 2 hours after surgery. Patients are also given blood thinners for 2 weeks following surgery which reduces the risk further. Other complications can include infection in the joint (about 0.1% in Mr Rajaratnam's series of about 4000 knee replacements). Ultra-clean theatre techniques are employed and antibiotics are routinely given at the time of surgery to reduce the chance of infection occurring even further. Keeping the operating time relatively short may also help prevent infections, as the wound is not kept open for a unnecessary length of time. Procedural precautions such as these, where the operation is performed by expert teams who work together regularly, may help in achieving great outcomes. Mr Rajaratnam has consistently performed amongst the highest number of knee replacement operations in the UK National Joint Registry each year and has developed an expert team who work together to perfect this operation in order that risk can be minimised and success rates boosted. Your surgeon will discuss all the risks with you before the operation and advise you with regard to your age and current state of health.
Will I still have pain after the operation?
Total knee replacement is a major operation and it is normal to experience pain after such a procedure. This initial pain may last for a few days after the effects of the anaesthetic and other medication have worn off. Pain due to the surgery and the healing processes is normal. You can expect significantly less pain after a few weeks, but it may continue for up to 6 months after the operation. Occasionally patients may have some persistent discomfort from scar tissue within the knee, but the vast majority of such cases may be improved with physiotherapy and pain management. If pain lasts longer than 6 months you should consult your doctor or physiotherapist as it might be due to other causes. At the Schoen Clinic in London the patients' post operative pain relief has been helped tremendously by having resident consultant anaesthetists available on the ward, who maintain local anaesthetic infusions into the surrounding tissue after surgery, and this has revolutionised pain relief after knee replacement surgery. Patients can now walk 2 hours after surgery, and many may even be able to go home 24 hours after surgery, although many choose to stay in hospital for 2-3 days following the procedure.
How long do I have to wait for surgery?
Under the National Health Service (NHS) knee replacement surgery is normally only recommended if other treatments such as physiotherapy, steroid injections and other such conservative measures have been tried for a period of time and have not helped with pain and immobility. You may be offered surgery if there is a marked deterioration in your quality of life or mental health and you are considered to be able to cope with major surgery and the subsequent rehabilitation. If you are referred by your doctor to a consultant orthopaedic surgeon the NHS guidelines state that the maximum waiting time for non-urgent referrals, such as knee arthroplasty, is 18 weeks from the time the referral is booked.
Private treatment for arthroplasty is either self paid or funded through private medical insurance. This is an option for patients who do not yet meet the criteria for NHS-funded care or wish to independently choose the hospital, the time and the specialist surgeon for their operation. People often choose private health care for greater comfort, convenience and rapid results. There is also the possible benefit of private patients having access to newer higher flexion implants, expert teams and the latest pain relief regimes that may not be universally available in all NHS facilities. If you want to go private you need to get a referral from your GP. Having decided on the hospital and surgeon, you can make an appointment directly with the practice manager in order to see your consultant of choice. You will get rapid diagnosis and the same consultant will treat your case from start to finish. The length of time you have to wait for treatment will be arranged during the consultation, but usually there is little or no wait for an operation.
How much does a private knee replacement cost?
Private Healthcare UK suggests that the national average cost of knee replacement varies by region and hospital. For the most experienced and highly qualified service, with first class facilities in popular areas, you would expect to pay between £11,000-£14,000. This includes all hospital, surgeon and anesthesia charges for the episode of care.
Does it help recovery if I try to strengthen my leg muscles before the operation?
It is an advantage to improve the range of movement in your arthritic knee prior to surgery as this improves results post surgery. Strong muscles also help with faster recovery. Once you know that you are going to have an operation there is no reason why you should not keep as active as possible. Some hospitals offer a prehabilitation physiotherapy programme to improve strength and mobility in the knee before the operation.
What are the chances that the operation will be successful, and what happens if it is not?
The chances of a successful knee replacement are very high, with patient satisfaction rating at about 95-97% when aided by a rapid recovery programme.The vast majority of patients report either substantial or complete pain relief after recovery from the operation. A study carried out by the University of Bremen in 2011 found that patients who had undergone total knee replacement were considerably more physically active within a year of the operation. Revision surgery is a second operation to correct a failed knee replacement. This can occur because over time the prosthetic has become loose or worn, perhaps causing secondary problems such as infection or instability. Occasionally an early revision may be necessary due to infection, instability or malalignment of the implant. Stiffness due to excessive scar tissue formation around the joint or a trauma resulting in fracture may also be reasons for a revision. Revision surgery is more complex than primary surgery, it needs careful planning, with specialised implants and tools.
Mr Rajaratnam has one of the lowest revision rates on the National Joint Registry over the last 10 years, implanting approximately 4,000 knee replacements.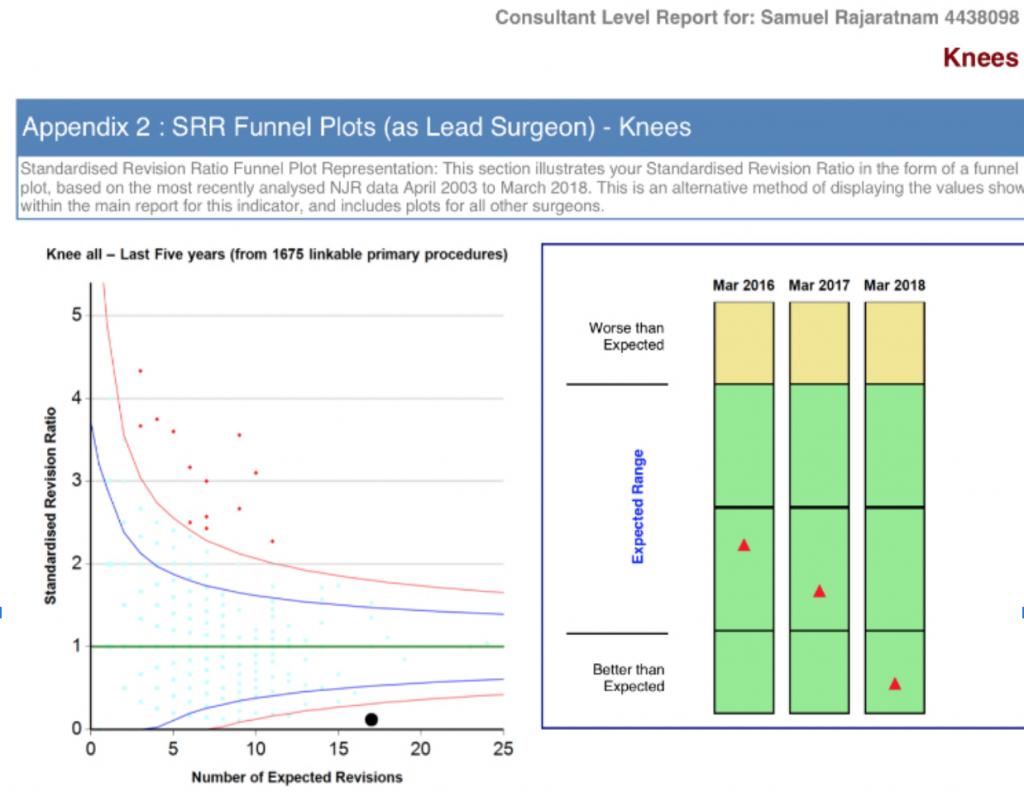 How soon after the operation will I be back to normal?
Using a postoperative early rehabilitation programme as part of an enhanced recovery programme you should be able to begin walking 3 to 4 hours after the operation, and will be able to traverse stairs before the end of the 2-3 days when you leave hospital. Getting back to normal activities will take less time if you follow a course of physiotherapy which will strengthen the muscles in your legs and help you with balance and regaining confidence in walking. Depending on the type of employment, you should be able to return to work 6 weeks after the operation, and in some cases sooner than that depending on your progress.
How long will my knee replacement last?
The vast majority of well done joint replacements should last 25-30 years as suggested in a recent article in 'The Lancet' published February 16th 2019 (Jonathan T Evans, MRCS et al.). It describes a 15 year 'in depth' study on the length of time a knee replacement lasts, and shows that 82% of total knee replacements last 25 years or more.
Mr Sam Rajaratnam FRCS (Tr. & Orth.)
As one of the recognised international experts in total knee replacement and all aspects of knee surgery, Mr Rajaratnam would be delighted to assess your knee problem. He has performed amongst the highest number of successful knee replacements in the UK National Joint Registry over the last 5 years with excellent outcomes, and is an expert on the latest rapid recovery techniques following knee surgery. He also has amongst the lowest revision rates following joint replacement surgery in the UK. This success he attributes to the expert team-based approach he has developed with anaesthetists, surgical assistants and specialist nurses who work together perfecting joint replacement surgery. Mr Rajaratnam lectures internationally on advances in knee surgery and is Head of the Orthopaedic Department at the prestigious Schoen Clinic,London. He is also an advisor to NHS England via the National Orthopaedic Alliance.
To make an appointment to see Mr Rajaratnam please contact
Practice Manager
Polly Newham (London Practice)
Schoen Clinic, Wigmore Street, London
Email: Rajaratnam.sec@schoen-clinic.co.uk
Tel: +44 (0)203 494 4010
Sharon Hanks (Kent & Sussex Practice)
Horder Centre, Crowborough
Email: Sharon.Hanks@horder.co.uk
Tel: 01892 602 991
Mob: +44 7399 535752