Mr. Sam Rajaratnam FRCS (Tr. & Ortho) is one of the leading Consultant Orthopaedic Surgeons in the UK specialising in all aspects of knee surgery.
His London Practice (The Chelsea Knee Clinic) is based at the Lister Hospital, Chelsea, and he also runs successful practices in Kent and Sussex (at Horder Healthcare) and in Eastbourne (BMI The Esperance Hospital).
Sam is recognised throughout the UK as a leading knee specialist , and performs amongst the highest number of successful knee replacement operations on the UK National Joint Registry each year, with excellent outcomes.
He has also pioneered day case knee ligament reconstructive surgical programmes over the last 8 years, and is passionate about enhanced recovery and day case rapid recovery following surgery to the knee.
TRAINING & AWARDS
Mr Rajaratnam trained at Guy's and St Thomas's Hospital in London where he qualified with a first class degree in anatomy and an MBBS in 1997. He then underwent basic surgical training at the Royal College of Surgeons, England, and higher surgical training at numerous centres of excellence across the south east of England and Australia.
He was awarded the Walter Mercer Gold Medal for the best performance throughout Great Britain and Ireland in the final FRCS Orthopaedics and Trauma examination in 2006.
He acted as the British Orthopaedic Association Ambassador to Hong Kong in 2007, and then spent time working in Australia at some of the world's best knee injury and reconstruction units.
He was appointed Consultant Orthopaedic Surgeon in 2008, and has now become one of the leading knee surgeons in the country with an excellent national reputation.
He has an interest in cartilage repair techniques within the knee, and has developed a successful day case anterior cruciate ligament (ACL) and posterior cruciate ligament (PCL) reconstructive programme. Mr Rajaratnam is passionate about researching new advances in knee surgery and is involved in national trials and programmes aimed at advancing knowledge in the field of knee surgery.
Sam is keen to promote on-going education in medicine. He was the senior tutor in charge of organising the postgraduate training for all the senior registrars specialising in orthopaedics within the London, Kent, Sussex and Surrey Deaneries between 2011-14.  Sam continues to have an active role in teaching and educating the next generation of orthopaedic surgeons.
PERSONAL PROFILE
Outside work, Sam is a keen sportsman, and enjoys numerous sports including golf, cricket, tennis, badminton and rugby.
He is also a keen pianist and accordionist, and enjoys the Great British countryside.
STATISTICS
Sam Rajaratnam is one of the leading joint replacement surgeons on the UK National Joint Registry and performs up to 400 knee replacements each year.
The following graph indicates the average number of primary knee replacements performed by each surgeon in the U.K. from January to December 2017 compared to Mr Rajaratnam.
Further details can be found on the following link: http://www.njrsurgeonhospitalprofile.org.uk/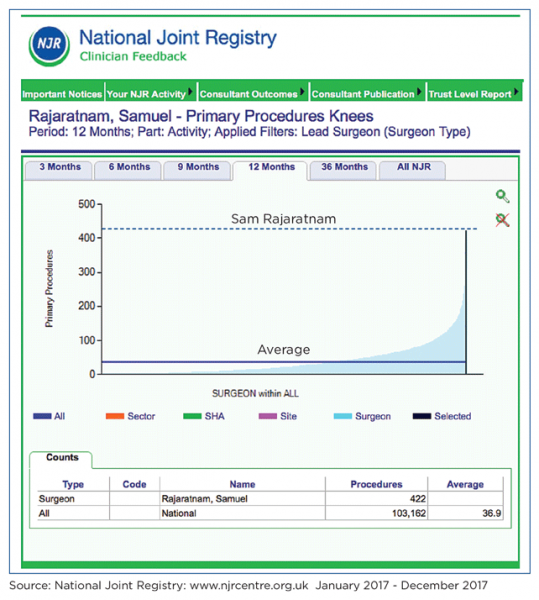 Source: National Joint Register: http://www.njrcentre.org.uk
Sub-specialities
MR RAJARATNAM SPECIALISES IN THE FOLLOWING AREAS:
complex knee surgery including primary and revision joint replacement

knee ligament reconstruction

cartilage repair of the knee

meniscal repair

minimally invasive knee surgery

complex multi ligament injury to the knee

day case knee ligament surgery

sports injuries

knee Surgery
Research interests
MR RAJARATNAM PURSUES RESEARCH IN THE FOLLOWING AREAS:
cartilage repair techniques in the knees

advances in modern knee replacements

knee injury and ligament reconstruction

rapid recovery programmes following knee surgery
Current memberships
MR RAJARATNAM'S CURRENT MEMBERSHIPS INCLUDE:
Fellow of the Royal College of Surgeons of England

Member of the British Orthopaedic Association

British Orthopaedic Association of Knee Surgeons UK

Member of South East Group of Knee Surgeons