Mr. Sam Rajaratnam FRCS (Tr. & Ortho) is one of the leading Consultant Orthopaedic Surgeons in the UK specialising in all aspects of knee surgery. 
His London Practice is based at the Schoen Clinic on Wigmore Street (situated in the "Harley Street medical area') in London, where he is based during the majority of his working week. 
Mr Rajaratnam also treats patients at the Horder Centre in Crowborough ( a centre of excellence for orthopaedic care – with an outstanding CQC grading), where he treats the majority of his patients from Kent, Surrey and Sussex. 
He is recognised throughout the UK as a leading knee specialist and has three distinct areas of interest within Knee Surgery.
Joint Replacement Surgery
Mr. Rajaratnam performs amongst the highest number of successful knee replacement operations on the UK National Joint Registry each year (approximately 400-500 annually) with excellent outcomes.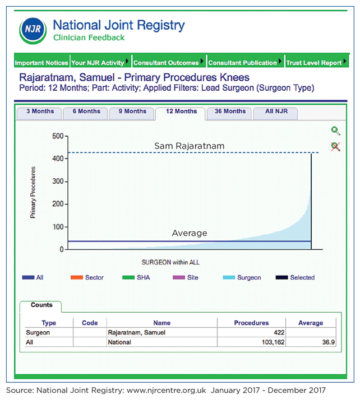 The following graph depicts the Revision rates for his primary surgery documented in the National Joint Registry, and shows extremely low revision rates in joint replacements performed by him personally over the last 5 years.
(Published September 2018, NJR)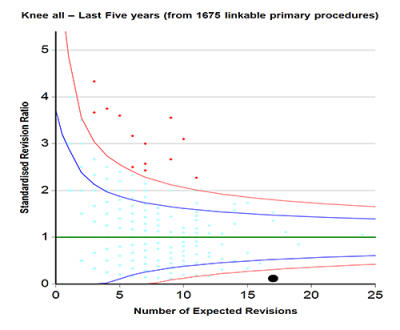 He has developed an excellent team where the surgeon, anaesthetist, nurse, physiotherapist and rehabilitation therapist working synergistically with the patient to optimise their functional recovery in the hospital and outpatient setting, thus achieving faster and better function following joint replacement surgery to the knee.
Soft Tissue Knee Reconstruction
Mr. Rajaratnam is a fellowship trained Soft Tissue Knee surgeon and regularly treats professional and amateur athletes with soft tissue injuries to their knee. Whilst a number of sporting injuries can be treated conservatively with a careful rehabilitative programme, some injuries require surgery to repair/reconstruct tissues.  He works closely with some of the best sports medicine specialists and private physiotherapists in the UK in his capacity as
Head of Department – Knee Surgery at the Schoen Clinic, London
.
Mr.Rajaratnam performs over 100 ACL reconstructions each year as day case procedures where patients are able to be discharged home 4-6 hours after their reconstructive surgery.  He also performs numerous arthroscopic procedures to repair and deal with cartilage defects within the knee and uses some of the latest technology to optimise results.
Other soft tissue operations regularly performed include Patella realignment and stabilisation procedures , Revision ligament reconstructions and multiligament knee reconstructive procedures.
Biological and Stem Cell procedures of the knee
Biological procedures are likely to improve over the next few years and may become the answer to a number of knee injuries.
Saying that, there are a number of unproven techniques currently being widely promoted to treat various pathologies within the knee……and some of these may not work or may even be harmful.  Whilst Mr. Rajaratnam in keen on biological repair in the knee, he is extremely careful to practice "evidence based medicine".
Mr. Rajaratnam is a member of the International Cartilage Repair Society (ICRS) and is exploring the use of Stem cell procedures for the treatment of discrete and contained cartilage defects of the knee, and such procedures are discussed in a multidisciplinary team environment with colleagues and carefully monitored for their success.
Training and Awards
Mr Rajaratnam trained at Guy's and St Thomas's Hospital in London where he qualified with a first class degree in anatomy and an MBBS in 1997. He then underwent basic surgical training at the Royal College of Surgeons, England, and higher surgical training at numerous centres of excellence across the south east of England and Australia.
He was awarded the Walter Mercer Gold Medal for the best performance throughout Great Britain and Ireland in the final FRCS Orthopaedics and Trauma examination in 2006.
He acted as the British Orthopaedic Association Ambassador to Hong Kong in 2007, and then spent time working in Australia at some of the world's best knee injury and reconstruction units.
He was appointed Consultant Orthopaedic Surgeon in 2008, and has now become one of the leading knee surgeons in the country with an excellent national reputation.
Mr. Rajaratnam now lectures internationally on how to achieve rapid and sustained recovery in Knee Surgery. He works with the international orthopaedic industry to develop new implants and procedures to enhance knee surgery.
Personal Profile
Outside work, Sam is a keen sportsman, and enjoys numerous sports including golf, cricket, fishing and the countryside sports.
Sub-specialities
MR RAJARATNAM SPECIALISES IN THE FOLLOWING AREAS:
complex knee surgery including primary and revision joint replacement

knee ligament reconstruction

cartilage repair of the knee

meniscal repair

minimally invasive knee surgery

complex multi ligament injury to the knee

day case knee ligament surgery

sports injuries

knee Surgery
Research interests
MR RAJARATNAM PURSUES RESEARCH IN THE FOLLOWING AREAS:
cartilage repair techniques in the knees

advances in modern knee replacements

knee injury and ligament reconstruction

rapid recovery programmes following knee surgery
Current memberships
MR RAJARATNAM'S CURRENT MEMBERSHIPS INCLUDE:
Fellow of the Royal College of Surgeons of England

Member of the British Orthopaedic Association

British Orthopaedic Association of Knee Surgeons UK

Member of South East Group of Knee Surgeons
Further information